Custom single turbo – 18-18.5psi – external wastegate control, OEM solenoids, COBB flash only – shakedown runs
Wanted to share what I think is another key milestone in N54 tuning. Yesterday we managed to use Cobb to control an external Tial wastegate entirely, without piggyback involvement and make some good numbers. Boost control had to be redone from the typical way its done for internally wastegated vacuum operated turbos such as OEMs and any stock frame hybrids.
We stopped at these numbers as the HPFP pressure literally nosedived near redline to 600psi from 2000+psi targeted so we'll be looking at the usual fuel capacity boosters and a couple things that I haven't heard of being tried yet.
This was at 18-18.5psi peak. Timing is around 8-10.5deg, our Petro Canada (Sunoco) pump 94 octane. No idea at the moment how much more power is left on our pump gas but I bet quite a bit more as this was literally just getting started LOL
Exhaust manifold is very similar to FFTEC's with the runners going up and merging down the middle to a T4 flange. GTX35R 1.06AR turbine housing, Tial wastegate with a 10lb spring. Exhaust is a single 3.5″ all the way back with the wastegate plumbed into the exhaust. This kit was a one off for a local car that has seen tons of 1/4 mile racing in the past and had one of the first RBs ever made. He drove the car on the street after, no issues, raced what looked like a 600 bike I think, stayed door to door…
The size of the exhaust housing is obviously making this a top end beast vs. a DD street car but stepping down to a smaller exhaust housing is never rocket science or brain surgery Click here to enlarge
We're SUPER happy having completed this with boost control that is so spot on. 10psi (to overcome the wg spring before any duty cycle is needed on top of it to reach higher boost) is reached at 4200rpm in 4th gear on a non-load bearing Dynojet.
Car is a 2008 BMW 335i E90. More to follow, stay tuned! :)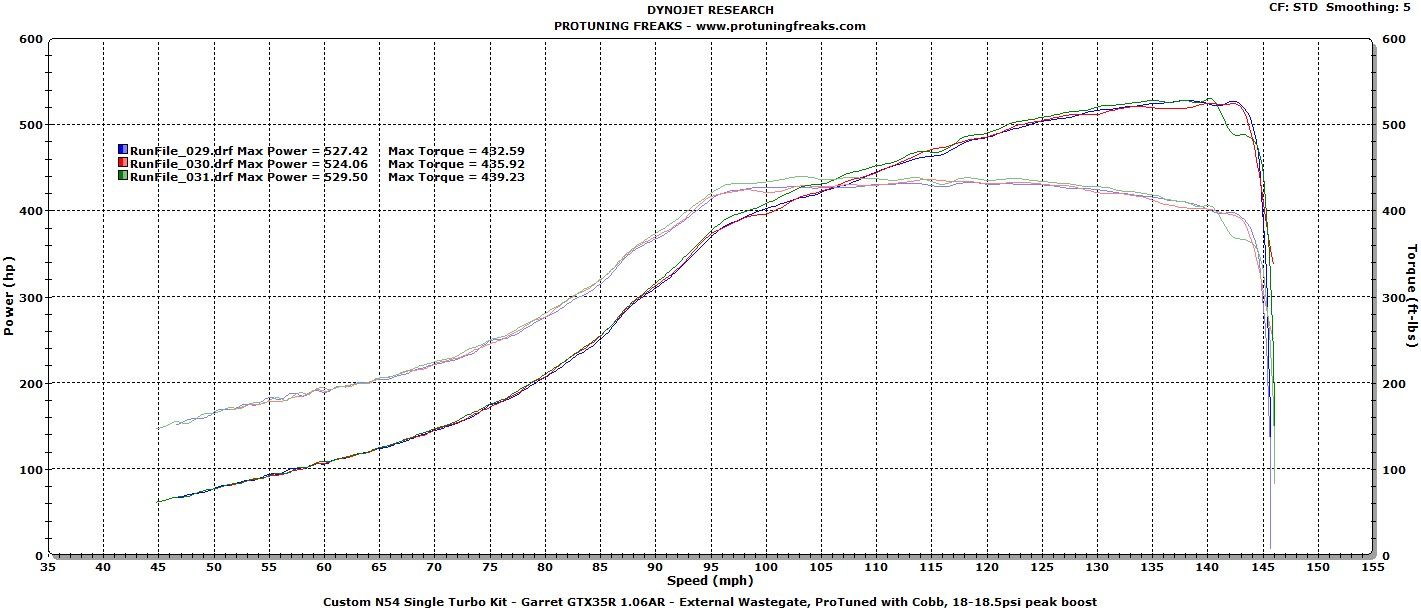 ---
---